Sequim Church of Christ
Are you looking for an assembly of the Church of Christ in Sequim, Washington?  The North Olympic Church of Christ is a Sequim Church of Christ.  We are only just Christians and we use just the Bible.
Where & When?
Entering Sequim from the east on Highway 101, follow Sequim Avenue to Washington Street, turn left onto S. Brown. This road becomes Hammond.
Look for the Shipley Center, the church door entrance will be on the left side of the building
We meet at 10 AM on each Lord's Day.
Contending for the Faith Once Delivered to the Saints
(Jude 3)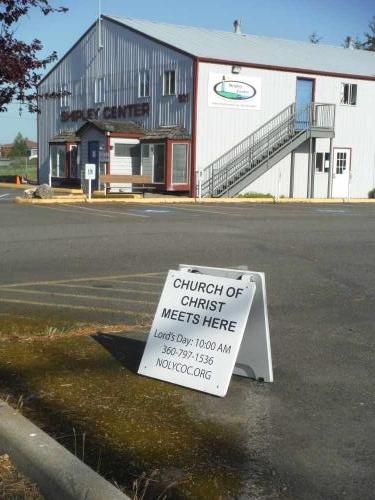 Need to Get in Touch?
R.E. Swan - Preacher: 360-797-1536 or 360-808-3623
Who Are We?
The North Olympic Church of Christ is an assembly of God's people drawn together by the common faith in Jesus Christ and submission to His will in all things. While the fellowship is voluntary, it is much more than a lodge or fraternity, for to become part of the church is to become a Christian with a personal committal to active fellowship with those of like precious faith .. even it it costs our death. (Rev. 2:11)
Why Not Obey the Gospel and Be Simply a Christian?
16 Yet if any man suffer as a Christian, let him not be ashamed; but let him glorify God on this behalf.
17 For the time is come that judgment must begin at the house of God: and if it first begin at us, what shall the end be of them that obey not the gospel of God?
2 And the Gentiles shall see thy righteousness, and all kings thy glory: and thou shalt be called by a new name, which the mouth of the

Lord

shall name.